CONTACT INFORMATION For PurrInn Cats Hostelry
Near Woodinville WA (north of Bothell, not far from Bellevue and Seattle WA) providing Quality Loving Care Cat Boarding
Please complete all [Cat Boarding forms] prior to arrival at our luxury cat hotel to help expedite your check-in process. We will e-mail them to you, or you can print copies from the links at the bottom of each PurrInn website page.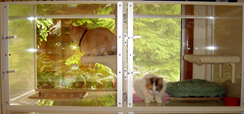 Phone: (206) 660-6475
(tweets and text messages are not accepted, read, or sent)
E-Mail: purrinn @ purrinn cats .com
Location: north of Woodinville WA, please call for directions.
Tips for contacting PurrInn Cats Hostelry:
For vacations after your cats first visit: Confirm your cat's FVRCP and Rabies vaccinations will be current during the planned visit; Call or e-mail to confirm availability of your cats favorite condo and to schedule a drop-off time; and Provide a [Reservation Form] and [Deposit] at your earliest convenience (provide other [Cat Boarding Forms] when you drop off your cat only if information needs updating).
If you would like to tour our boarding cattery or would like an estimate of the total cat boarding costs and condo availability for your cat's planned vacation, please call (206) 660-6475.
If you're contacting us via Email about a reservation, please include: